TENNESSEE MUSIC HALL & HOT STONE STEAK HOUSE
28.04.23 bis 07.05.2023 - BEA Bernexpo Freigelände. Total 1600m2 Saloon & Music Hall mit Food & Grillständen. Neu ist auch das Steak House wieder mit dabei..
Fr. 28.04.2023 B-Shakers (Rockabilly, CH), Sa. 29.04.2023 The Rockabilly Bones (Rockabilly, CH),
Mi. 03.05.2023 Migi Stompers (Line Dance, CH), Do. 04.05.2023 Hillbilly Court (Country, CH)
Fr. 05.05.2023 Tommy Romero, JB Ramblers (Rock 'n' Roll, CH), Sa. 06.05.2023 Tommy Romero, JB Ramblers.
Tisch-Reservationen unter: www.grizzly-saloon.ch , unter 044 862 90 00 oder per Mail info@striker-food.ch.
See you soon at the saloon! Yhaaaaa....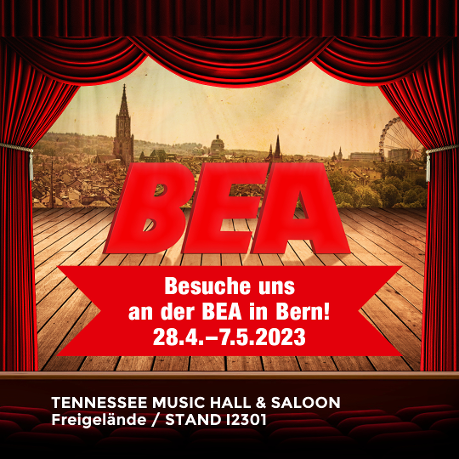 GRIZZLY SALOON & TENNESSEE MUSIC HALL

Telefon: +41 (0)44 862 90 00
E-Mail: info@striker-food.ch
YOUR BLUES, COUNTRY AND ROCK 'N' ROLL VENUE...
OFFERTANFRAGE MIETE SALOON BÜLACH FÜR GRUPPEN ODER
TISCHRESERVATION BEA BERN 2023:
FOOD & BEVERAGE. BEERS, WHISKEYS AND DRINKS.
GRIZZLY TEXAS BBQ.
Bestes TEXAS-BBQ als Catering für Deine Gäste!
Pulled Pork, Brisket und Ribs vom Smoker. Dazu reichhaltige Buffets mit abwechslungsreichen Speisen und Getränken.
Gerne offerieren wir je nach Wunsch dein Catering...
DE
IN EVENT IM GRIZZLY.
Der Saloon & die Music Hall steht für Anlässe und für Gruppen, Firmen, Privat und Aperos mit Catering, Barbetrieb und Entertainment.
Voll ausgebaut mit Technik und vollgepackt mit Action überzeugt der Saloon in seiner Einzigartigkeit. Gruppengrössen von 100 bis 1500 Personen.
WIR BAUEN VOR ORT AUF IHREM GELÄNDE.
western saloon
Pub & Music hall.
ROCK 'N' ROLL
BLUES & COUNTRY
ROCKABILLY
The Original
Grizzly Saloon.
© Copyright Red Grizzly Saloon Bülach